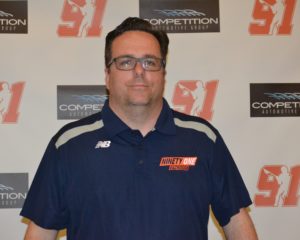 Team 91 is proud to have Brendan Chamberlain as its Recruiting Coordinator. Mr. Chamberlain has more than 20 years of coaching experience at the club and collegiate levels.
Chamberlain is an assistant coach at Farmingdale State College, where he is part of all aspects of the Division III lacrosse program. Previous to Farmingdale, he was the head coach at Suffolk County Community College for six seasons. While at Suffolk, Chamberlain served as President of the National Junior College Men's Lacrosse Coaches Association for two years.
Chamberlain also served as the top assistant at Division I schools Stony Brook and Butler, as well as Division III Shenandoah. At Shenandoah, Chamberlain was also the assistant sports information director and head cross-country coach, a position in which he was named Dixie Conference Coach of the Year.
As a student athlete, he was a four-year starter on the Shenandoah lacrosse team. As the team captain, Chamberlain earned the squad's Coaches' Award in 1997. In addition to playing lacrosse, Chamberlain ran Cross Country, earning Team MVP in 1996.  He earned a B.A. degree in Mass Communications from Shenandoah in 1997.
Prior to Shenandoah University, he attended Sachem, where he was a two sport athlete in lacrosse and cross-country. In 1993, Chamberlain was a member of the New York state championship lacrosse team, and he also participated in the 1991 cross-country state championships.
Chamberlain resides in Suffolk County with his wife and children.