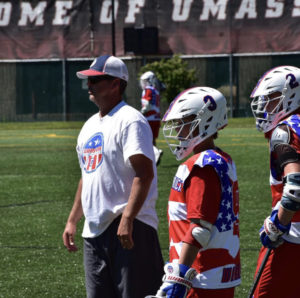 Chad Watson grew up outside of Philadelphia, PA where he attended the Perkiomen School and played lacrosse for his father Reid. He played 3 sports in HS, Football, Wrestling and Lacrosse.  Chad lead his High School team to the PA North Eastern League Championship as midfielder and holds the distinction of scoring at least one goal in 52 consecutive games over a three–year period. He was a three–year All–league and two–year All–State selection.
In 1997 Chad was inducted into Perkiomen's Hall of Fame along with his father. Chad attended the University of North Carolina and was a member of the 1986 National Championship team and the 1989 ACC Championship squad. After graduating in 1989, Chad went to work with Sports Endeavors Inc. in Durham. After serving in many roles at SEI, in 1994 Chad went on to cement his own legacy in the Sporting goods industry as Founder and President of the Great Atlantic Lacrosse Company/LACROSSE.COM . He served on the NC–Chapter of US Lacrosse from 1997 – 2001. Chad served on the US Lacrosse Industry council, and was an advisory Board Member and talent evaluator for Major League Lacrosse from 1998-2008.
His mother Margery won a Bronze Medal in the 1984 Olympic Games as a Field Hockey Coach.   She is also a member of the National Lacrosse Hall of Fame and the National Field Hockey Hall of Fame. Chad is married to Kathryn and has three children Tanner, McCabe and Wade. Chad has coached in the TSL/Cannons/Team91 program for over 16 years and has had 50+ players to move on to play lacrosse in the NCAA ranks.