TEAM 91 CAROLINA BOYS TRYOUTS
Thank You to all those that attended tryouts on August 3/4th. We will be sending team invitations out shortly.
If you were unable to attend tryouts on August 3/4th the alternate tryout date is August 18th from 6-8PM at Seymour Park in Apex. If you already registered online you do not need to register again for August 18th tryouts. Please just show up at 5:45 and Check-in at the Check-in Table.
If you didn't tryout for Team 91 Carolina or sign-up online for tryouts and you'd like to be a part of our program you can sign-up at the tryout link below and attend tryouts on August 18th to be evaluated for a team spot.
Alternate 2019-2020 Season Tryout Date:
August 18th 
Location:
Seymour Park, Apex
Times:
All Graduation Years 2030-2021 - 6-8PM
What you get :
Reversible Jersey / T-Shirt
Price :
$55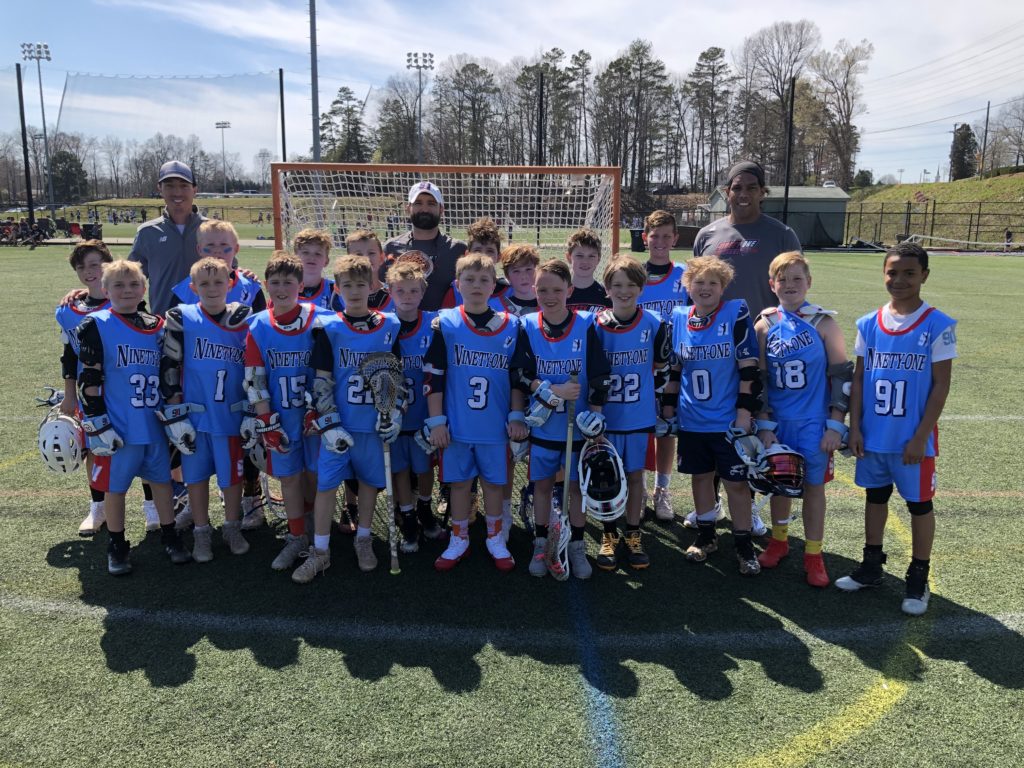 Team 91 Carolina : Mission Statement
The Triangle's most committed Players, and Coaches - Best Training, Best Gear, Best Lacrosse Experience.
Team 91 was started with one thing in mind: to provide an unparalleled level of teaching, that which is not seen in travel most organizations. Team 91 Carolina is for the area's most committed players, who want to dedicate themselves to being the best possible lacrosse player and student-athlete they can be.
The Team 91 Carolina Mission is a two-part process that begins at the youth level for players with a focus on developing the highest level fundamentals and lacrosse IQ, then feeds into the high school programs where college exposure and opportunities to play against the best teams in the nation present themselves.
Youth Players – 1-8th Grade
The Team 91 Carolina program at the youth age levels aims to take players in 1-8th grade and quickly advance their skills so that they are prepared to take on the challenges of high school lacrosse. The opportunity to get the most skilled, athletic, and committed kids together at the youth ages is key to allowing players to develop not only strong fundamentals, but a strong understanding of the game. At this age advancing lacrosse IQ while getting a strong skill base is what will carry players into their high school careers and open up college opportunities if that is of interest. The Team 91 Carolina program has coaches that are excellent at teaching the game and allowing players to improve throughout the year.
High School Players – 9-12th Grade
The Team 91 Carolina program at the high school levels is about developing the area's best players and allowing them the opportunity to train together and compete against the best teams in the nation. Team 91 Carolina players will have access to both team events and individual showcases through the National Lacrosse Federation(NLF) and work with some of the area's best coaches. Lost often is the importance of players to continue to improve their game even at the high school levels. For players wanting college exposure and opportunities those will present themselves and Team 91 Carolina will support families in that process. For players looking for a terrific lacrosse experience that allows them to return to their high school teams a better player and leader, Team 91 Carolina will offer unparalleled development for the area's best players.