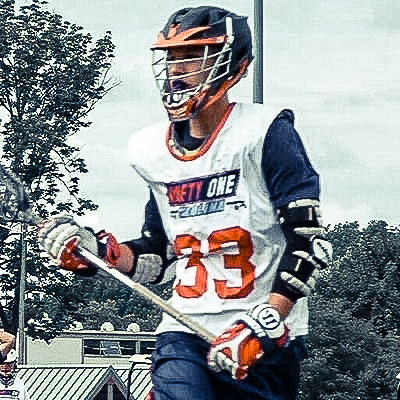 Follow Team 91 Carolina on Instagram, Twitter and Facebook. 
It wasn't designed that way, but Logan Wheeler almost always finds his way to the newest program on the block.
The Team 91 Carolina 2020 midfielder and Fuquay-Varina midfielder gets in on the ground floor everywhere he goes. It started with the Goblins, a small youth club run by his father, Brad. His high school started a team when Wheeler got there, and now, he'll have the chance to join one of Division II's newest programs without having to go too far from home.
Wheeler recently committed to Barton, which completed its first season in 2019. He'll join Team 91 Carolina teammates Sam Salisbury, Kris Fails, Logan Kennedy and Nathan Metcalf at the school, where they'll be tasked with taking the Bulldogs to new heights. Fortunately, that concept isn't foreign to him.
"I've always started up programs, so it's nothing new," Wheeler said. "Coach (Warren) Shumate is a great guy, and I met Coach Jeff Handman through Team 91. He also introduced me to Barton lacrosse and what it was as a college."
"Playing with the same guys in college is going to be a lot different than other teams," Wheeler said. "We have great camaraderie at 91, and a lot of the players were getting overlooked and Coach Shumate was great about accepting all of us. It's really huge for us to know each other already and have that connection."
One of the things that drew Wheeler to the coaching staff was their willingness to see him chase his dreams, even if it ends up not being at Barton. Wheeler has always had an affinity for the armed forces and for serving his country, and rather than be turned off by it, the Barton staff totally bought in to the idea and will support his departure if he gets accepted at a service academy, lacrosse or not.
"The coaches thought of it as a higher honor that one of their commits would go to a service academy," Wheeler said. "When I was a freshman, I went to some prospect camps at West Point, and it made me feel like I wanted to be in the military for the leadership role and because I feel like I could make such a difference."
If Wheeler ends up at Barton, he'll also continue the tradition of playing for his father, Brad, an assistant on the Bulldogs' staff. It's a rarity to play for your dad at the collegiate level, but it's nothing new to the multi-talented midfielder who prides himself in his ability to contribute all over the field.
"I've always had him as my coach, so I don't think anything would really be different," Wheeler said. "He coaches my high school and club team already, so it would just be our normal father-son dynamic."
Whether he ends up on the field at Barton or serving our country in the military, one thing's for sure: whoever ends up getting Wheeler is getting a consummate professional and great teammate.
"Logan is a tremendous competitor, and you can tell that he's a coach's kid," Team 91 Carolina director Nick Holota said. "He's consistently looking to make the right play on the field with his diverse skill set. He can score, feed, defend and should transition well as a shot-clock era midfielder at the next level. He's worked incredibly hard to put himself in this position and we're thrilled for him to find such a great school."
Team 91 Carolina 2020 Commits
Noah Arneson, defense, Holly Springs – Marist
Kris Fails, defense/LSM, Cary – Barton
Logan Kennedy, midfield, Holly Springs – Barton
Ryan Levy, attack, East Chapel Hill – North Carolina
Nathan Metcalf, goalie, Oxford Prep – Barton
Brett Reynolds, Faceoff midfield, Chapel Hill – Furman
Sam Salisbury, defense, Middle Creek – Barton
Gabe Smith, Attack, J.H. Rose – Lenoir-Rhyne
Logan Wheeler, Midfield, Fuquay-Varina – Barton
Cameron Wilcox, Attack, Fuquay-Varina – Piedmont