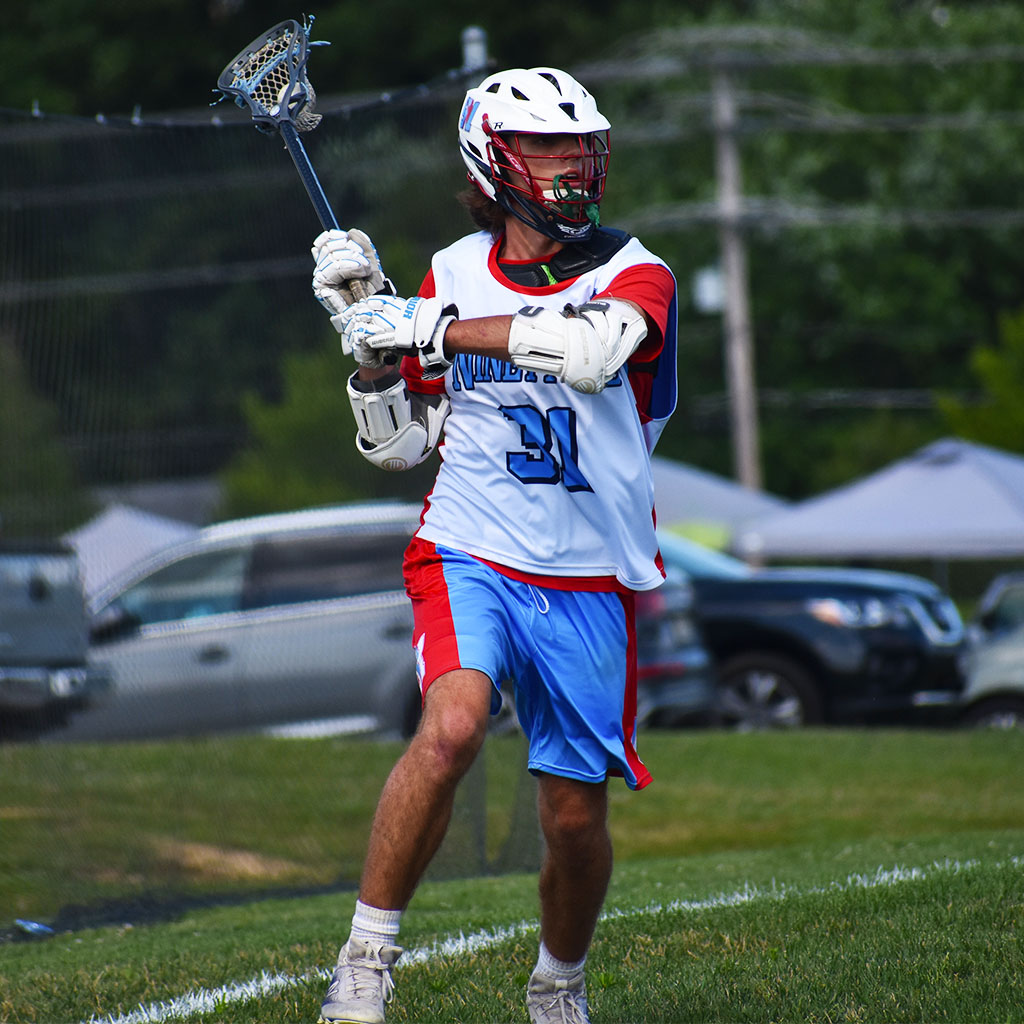 Follow Team 91 Carolina on Instagram, Twitter and Facebook. 
Gabe Smith remembers being a little bit confused when he first started playing for Team 91 Carolina.
The 2020 attackman out of JH Rose had made a name for himself in the ECYLL, his local youth lacrosse league, as the guy who could score from anywhere. As a result, he expected to get the ball in his stick every time that the ball came down to the offensive end.
When he got to Team 91, though, he had to learn that things work differently if you want to be able to score against the better competition that club lacrosse has to offer.
"I used to take the ball and score at will, then I had to learn that there's a time to push the ball and be patient," Smith said. "It was definitely the hardest transition in my first couple of seasons, and I learned a lot of lessons under Coach Dan Levy. They probably thought that I was a big headache and it must have been frustrating for my coaches, but they were extremely patient. I talk to Dan now and I can't fully thank him for everything that he taught me. Without that, I wouldn't have been looked at by other coaches."
There was quite a bit of a commitment needed from Smith, too. He had to buy in, which he showed in different ways, but perhaps none more impressive than routinely driving two hours each way to come to the Chapel Hill area for practices. He continued to put up impressive numbers in his area – he'll enter his senior year with 206 goals and 139 assists to his name – but he knew that he'd have to put in some miles to find the best competition in the area.
"Before I could drive, my dad was driving me there, and I valued those practices more than people think that I did," Smith said. "Without them, I wouldn't be close to the player I am today."
That player that he is today is a dynamic scoring threat from all over the field, one that has consistently produced against good competition. When he decided to look at schools, though, he wasn't sure what to expect, particularly not after how the class of 2020 was affected by the NCAA legislation preventing contact with prospects until Sept. 1 of their junior year.
"I wasn't super dead set on Division I or Division III, and I wanted to keep my options open," Smith said. "What I wanted out of the college experience was different than what other kids wanted, and I wanted to find the best fit for me. I wanted to wait and exhaust everything and get a feel for every Division and for what every coach and school were like. I wanted to make the right decision, rather than make any decision."
As it turns out, the right decision ends up keeping him in the state of North Carolina, as Smith opted to commit to Division II Lenoir-Rhyne. He's the eighth Team 91 Carolina 2020 to commit and he's the first player in program history to choose the Bears.
Why Lenoir-Rhyne?
"When I went there for a visit, there was just a great atmosphere," Smith said. "It just felt like home. People that are in college tell you that you'll know as soon as you're on campus, and out of the schools that I looked at, it felt like the best one for me. The program is in a good place. Coach (Greg) P(aradine) was the national DII Coach of the Year two years ago, and Coach Levy told me good things, too. I'm leaning toward studying business, but I'm pretty open, and I'll probably go in undecided unless I find a true passion in the next year."
Paradine and his staff are getting a player who has been a holy terror for goalies on Rose's schedule. Should he stay healthy, Smith is a virtual lock to crash into the rare 400-point club with an outside chance at becoming only the second player in state history with 500 points. Either way, he's a good bet to make a big offensive impact in Hickory, through both his skill and work ethic.
"Gabe will have such a bright future at the next level because he simply loves the sport so much and will sacrifice whatever it takes to get better," Levy said. "He put in a lot of time and effort to get where he is today, and it's been a joy to watch him grow as a player and a person. I can't wait to see what he does at Lenoir-Rhyne."
If history's any indicator, he'll do a whole lot.
TEAM 91 CAROLINA 2020 COMMITS
(Click here for all program commits)
Noah Arneson, defense, Holly Springs – Marist
Kris Fails, defense/LSM, Cary – Barton
Logan Kennedy, midfield, Holly Springs – Barton
Ryan Levy, attack, East Chapel Hill – North Carolina
Nathan Metcalf, goalie, Oxford Prep – Barton
Brett Reynolds, faceoff midfield, Chapel Hill – Furman
Sam Salisbury, defense, Middle Creek – Barton
Gabe Smith, attack, J.H. Rose – Lenoir-Rhyne